Summer Seasonal Single: India Kelagur Heights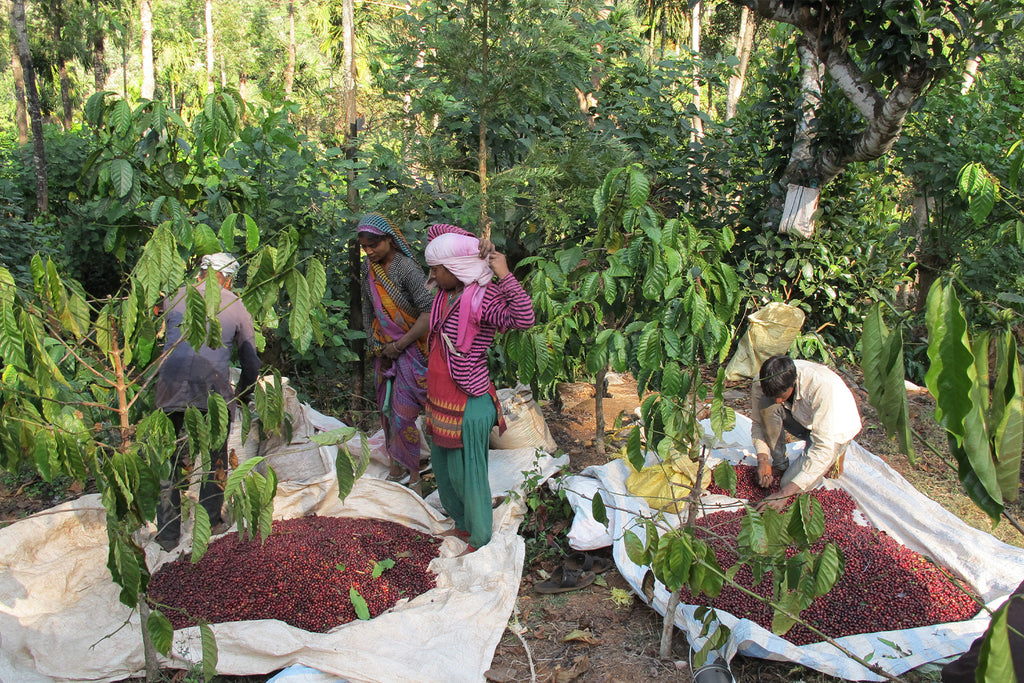 As we enjoy our Summer Single Seasonal India Kelugar Heights we cast our minds back to last year when Director Chris and Griffiths Bros. Coffee Roaster Libby travelled internationally on an origin trip. Visiting famed Kelagur Heights Coffee and Tea Estate it was here that they experienced first-hand the coffee harvesting process from farm to mill.
A family owned business run this estate is powered by fourth generations of the Mathias Family, dedicated growers who pour endless passion into creating the highest quality product.  Harvesting up to 150 tonnes annually of some of the finest Arabica and Robusta coffee beans each season Kelagur Heights Estate is spread over 120 hectares and is located in the first range of the Western Ghats in the Chikmagular District of Karnataka State. Coffee grows under a mixed canopy of shade with the upper canopy comprising trees such as ficus; albizzia; cedrela toona and javanica.  
Libby noted "seeing those dark red, beautiful cherries hanging on the branches – it was amazing. For me it was the first real 'wow' moment. When we stopped arrived at the plantation, the first thing I did was pick a few cherries and eat one. Biting into the cherry, you get all the beautiful, sweet juices; and then the malk, which is like the honey around the bean. What an experience!"
The Estate has fully integrated facilities for coffee processing, with on-site pulp houses and curing works. Fourteen perennial springs on the Estate ensure that the washed Arabica and Robusta grades are both of the highest standard. With all their coffees, the emphasis for Kelagur Heights Estate has always been on sustainability under the expert guidance of the Central Coffee Research Institute of India and this variety is a hybrid developed in conjunction with them. Developed ostensibly to be disease resistant and sustainable, this variety is from a specific gene bank developed by the Central Coffee Research Institute in India.

The amount of sheer hard work that goes into harvesting stuck Chris, "We were able to see many facets of the coffee process; how the coffee trees are picked each day by teams of people - often working in steep mountain regions." 
Chris, Libby and the HA Bennets team, our green coffee trader hosts, also were privy to seeing many different methods of green bean processing, such as washed, semi washed and pulped natural processes. They delegation also visited a dry mill, where beans are processed and sorted for quality and size and packed in either 60 kilo jute bags or bulk bags.
A highlight for Chris was also seeing the technology initiatives and ecological farming practices farmers are employing to ensure coffee production evolves, quality remains consistent and sustainability is front of mind such as investment in pulping equipment that recycles water and uses less electricity to composting coffee pulp for fertiliser through.
Enjoy an Indian Summer of warm nights and bright coffee new with our Summer limited edition single origin which delivers a balanced cup, this smooth bodied coffee is ripe with Toffee Apple, Juicy Citrus and Chocolate. Shop now Indian Kelagur Heights