How to Brew: Another Bloody Espresso Martini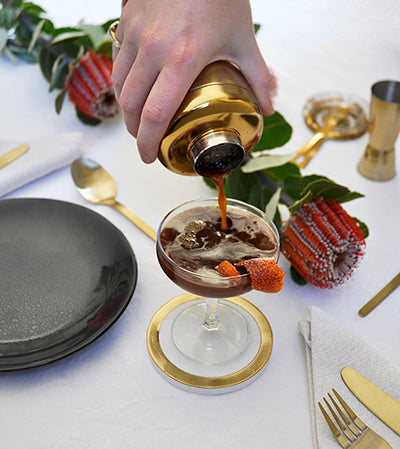 It's beginning to look a lot like cocktails!
Savour the party season with our 2019 signature cocktail – Another Bloody Espresso Martini.

Perfect for a Caffeinated Christmas it utilises coffee 3 ways creating a festive tipple that's rich in flavour and full of merriment – 'tis the season to be jolly after all!
Another Bloody Espresso Martini

Hardware:
Martini Glass
Cocktail Shaker

Ingredients:
30ml Vodka
30ml Coffee Liqueur
½ tsp. Raw Sugar
Ice
Ground Coffee for dressing the glass rim
3 Coffee Beans per serve to finish
Method:
1. Pour all ingredients to a cocktail shaker.
2. Shake vigorously with ice and strain into a martini glass.
Garnish:
Peel a strip of Blood Orange, twist over drink, rub around rim of the glass and finish by dipping into ground coffee for an aromatic trim!
For the ultimate buzz finish with Three coffee beans and golden Activated Eco reusable straws included in our gift pack.
For a 'Merry' Christmas shop our Espresso Martini Starter pack here.