Trend Trip Host Milano 2019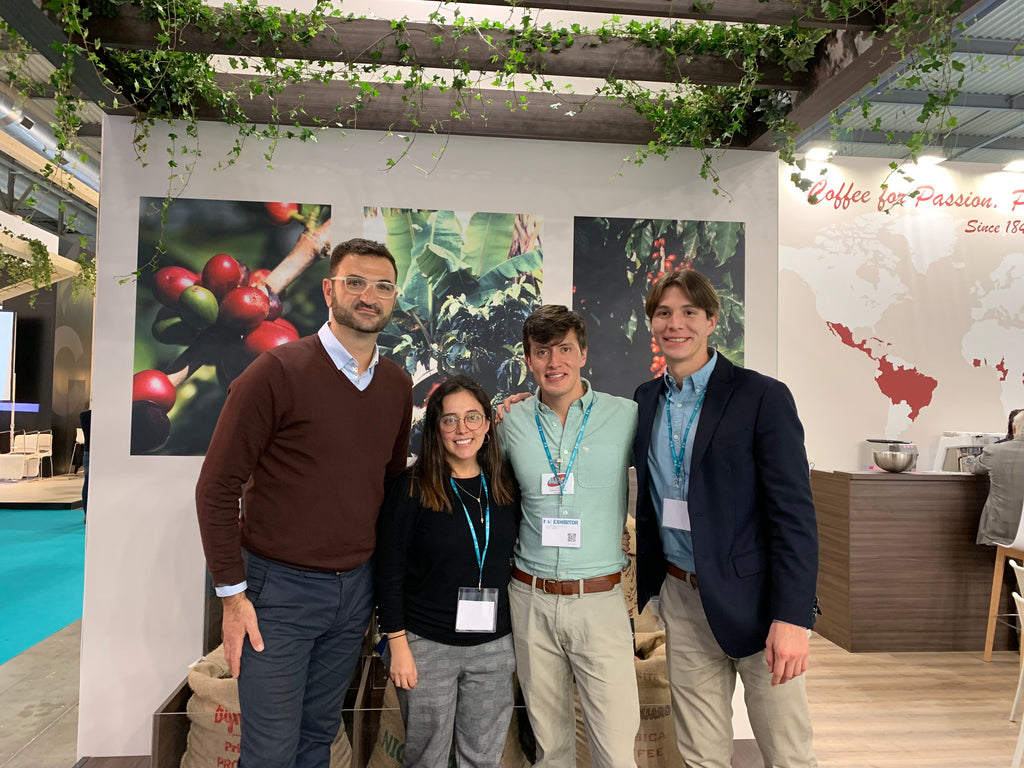 Jet setting into Host Milano, Italy, Pete and Chris our Griffiths Bros. Directors were buzzing amongst global suppliers, caters and hospitality pros. A tough gig, but someone had to do it!
A world leading biennial trade fair in its 41st year, Host Milano is described as a unique cognitive journey towards the hospitality. A first-class exhibition, it provides the opportunity to conduct quality business, professional development and acts as a showcase for everything a successful food service operator needs including raw materials, semi-finished products, equipment, furnishings, tableware and education.
A very international affair, four out of ten visitors came from abroad, from no fewer than 171 countries in what created a cosmopolitan atmosphere.  Over three days Pete and Chris rubbed shoulders with over 200,000 visitors and 2,249 big, small scale and start up exhibitors. During the evenings they dined on Italian delicacies and "experienced" traditional Milanese beverages… enough to drive the team here at Griffiths Bros. HQ to mutiny.
Pete remarked "the show allowed us to have point of reference to see how Italians, stylish by nature balanced sustainability and style in their stands and commercial executions, chat to some of the best in branding and experience next gen smart coffee tech. A highlight for me was when I checked out the nautical inspired under-mounted coffee and beverage dispenser with CoffeeCloud innovation solution from a Danish equipment suppliers Top Brewer"
Chris noted the show was heavy on updated espresso equipment with La Marzocco having an innovation centre showcasing the latest espresso equipment, new grinders and an automated milk frother.  "There were some exciting redesigns of classic machines. I'm looking forward to seeing the new GB5 when it gets released here in Aus in 2020"
Machine customization was also a trend – allowing for expression of brand or reflection of craft. Chris' favourite - this contemporary take on a classic E61 Faema complete with Toucan!
Meeting three young producers from Nicaragua and Guatemala who recently completed the GYAM (Global Youth Ambassadors Movement) was also memorable. (as explained below)
The 2019 edition of GYAM was hosted by Milanese coffee trader ARC at their trade fair stand.  Engaging with exhibitors and attendees alike ARC encouraged the industry community to take part in prepared internet survey. The aim is to help the coffee world to better understand the new generation challenges and help them.
"Your opinion is important! There is the perception that young people are not attracted to grow coffee as in the past, causing a possible shortage of coffee growers in the near future, as the average age of the farmer worldwide is about 55 years old. This would lead to a risky situation were there won't be enough coffee producers in the medium term to satisfy the continuously increasing demand."  - Arc Team
Host Milano allowed top players and industry experts to share case histories, exchange know-how and experiences and where topical issues like sustainability, future trends the role technology and the insurgence artificial intelligence could be discussed. In summation our dynamic directors concluded it was a truly unmissable trade fair, that has re invigorated their passion which they look forward to injecting into Griffiths Bros. Business practices in 2020.  It could also be the fact that there was a side trip to Bordeaux to relax, recharge and reset!