From spark to flame – the creation of Zero Impact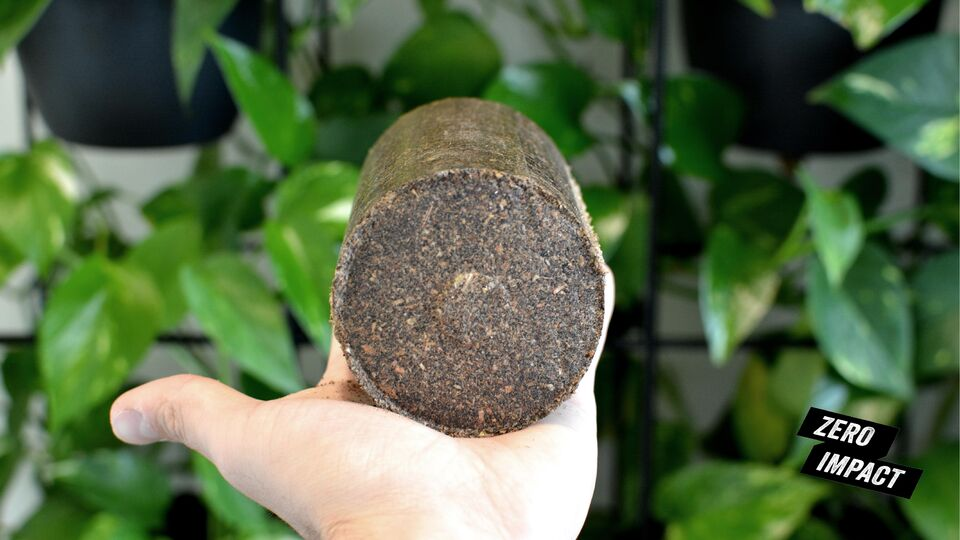 We believe every great, sustainable idea is born from two things; a need for change and a question – what can be done about it?
Zero Impact's unique natural fuel product created from coffee waste began this way, following a tour of our roastery in Mulgrave.This was the moment the full environmental impact of the coffee industry made sense for Zero Impact Founder, Max Middleweek.
"As a chemist, it was natural that I began with the problem in mind. It was at Griffiths Brothers' Hackoffeethon event that I first learned of the sheer amount of coffee waste the industry produces day after day.
"But when I toured the roastery, it really hit home – and this was only one location," said Max.

"I saw for myself the organic product going to waste every day, all over Melbourne, all over Australia. And I suddenly really understood why Griffiths Brothers is so committed to finding solutions to this problem."

Thus began our unique and fruitful partnership with Zero Impact – and the spark of an idea. Max embarked on a mission about the environmental impact of the coffee industry, seeking possibilities for re-use of coffee waste.

"I first became curious about coffee husk, which looked really flammable – and what would happen if it was blended with other waste like coffee grounds. My question was; could this become an organic fuel?"

Max's chemistry background meant he was familiar with experimental testing regimes. He began trying to create a blend that might result in an effective, sustainable and long-burning fuel.

"Whether it's husk or sawdust or other biomass for fuel, it's all about getting the right blend. We needed to ensure that our product would burn for a long time and hold together. Supported by Griffiths Brothers we began a journey to test, tweak and improve the product to find a viable solution."

"After testing the blend, we experimented with compression, using industrial machines to squish the coffee waste into a log shape. The compaction is immense, causing lots of heat which was the perfect solution, because coffee contains lignin, which is like a natural glue. Under high temperatures, the lignin inside the coffee melts and binds the logs together."

What's most exciting about Zero Impact's first release product is not only the fact that it gives coffee waste products a second life, but has the potential to reduce harmful emissions and the impact of climate change.
On a purely local level, most firewood in Victoria and NSW comes from the Murray River region. There are very strict controls over deforestation, but often trees come from native Australian forests in State Government controlled areas. Similarly to mining, this is a finite resource that takes hundreds, if not thousands of years to replenish, if at all. It's highly damaging to our fragile ecosystem and habitats.


"We also know that this practice is highly unacceptable to the community – in 2016, a leaked Forest Wood and Products Australia (FWPA) commissioned study found that 65% of rural-based respondents said native forest logging was unacceptable," Max said.Astonishingly, households across the country still derive 10-15% of their energy consumption from firewood.

"We're burning around nine million tonnes of firewood a year in Australia, so the impact adds up quickly. There's also the often forgotten impacts in terms of energy used in cultivating, harvesting, processing and transporting timber, which all release carbon dioxide. It's also fairly inefficient, when you assess the amount of heat actually produced," said Max.

"Burning a hotter, longer burning, cleaner product such is infinitely better. Our product is carbon positive and by removing coffee waste from landfill, there is a major saving in greenhouse gas emissions, too."

According to Max, the benefits of switching from 'dirty' to 'clean' fuels is immense.

"We burn hundreds of millions of tonnes of coal in Australia. The agricultural and industrial sectors and even some households are burning coal and brown coal briquettes. This is a massive driver of climate change.

"These activities don't need to be so carbon intensive. If we can switch this out to our product, there will be a massive saving of CO2 in the process," he said. With regular suppliers of major ingredients for this innovative fuel product, Zero Impact is now ramping up production.

"Griffith Brothers is providing as much coffee husk as we need, and we have formed partnerships with CBD cafes to collect coffee grounds, as there is such a high density of supply. We are incredibly grateful to the City of Melbourne for their assistance with these negotiations," Max said.

After creating a strong business case, Zero Impact was also successful in winning a City of Melbourne Small Business Grant, providing much-needed funding towards product development.

Testing with various cooking styles has also begun, one of the most successful so far at Ladro Restaurant in Fitzroy. The business has been trialling this natural fuel product in their pizza oven with huge success, and report excellent results in creating the long-lasting, extreme heat they need for hours every day. This means we are one step closer to closing the coffee loop – and we're behind Max every step of the way.

So next time you want to build a campfire, stoke the barbie or fire up a pizza oven or traditional wood heater in your home, think twice about the fuel you choose. The waste from your morning coffee could be keeping you warm and cooking your food tonight – instead of ending up in land fill.

To get involved in Zero Impact's consumer product launch, visit their website here and sign up to be an early adopter.