Griffiths Bros X CafeSmart. Drink Coffee, Do Good.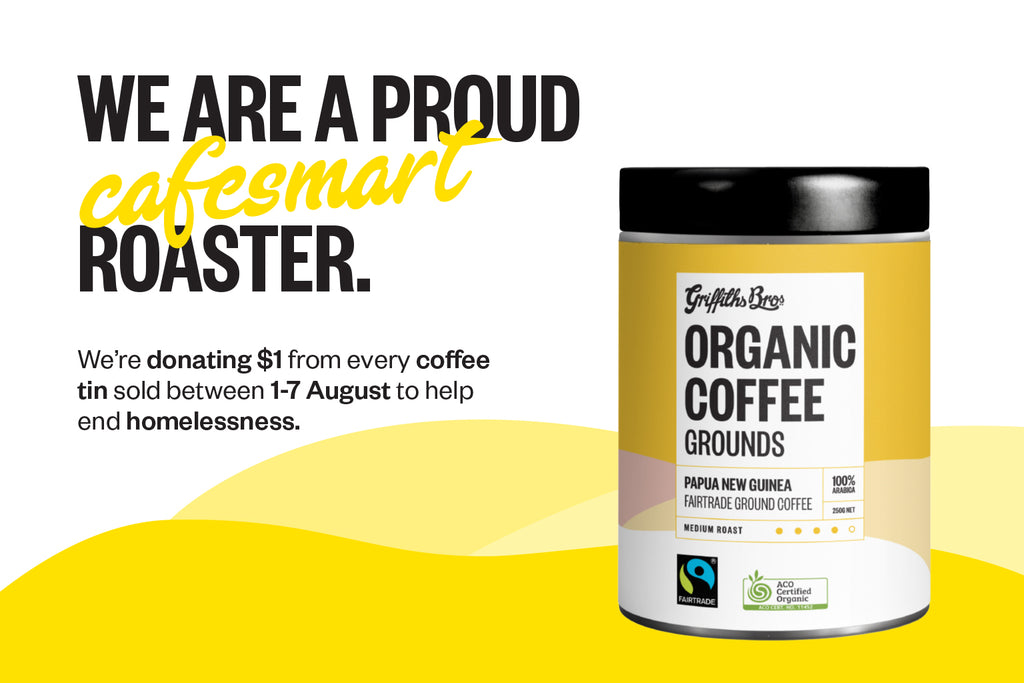 We are proud to be a gold roasting partner for CafeSmart Aug 1 – 7th 2022.
"Coffee is synonymous with community and we're excited to be joining StreetSmart in their CafeSmart initiative in the fight against homelessness in our hood" – Peter Patisteas Managing Director.
SHOP AND SUPPORT
Joining us in the fight against homelessness is easy. 
Simply visit our bean store or shop online and purchase our certified Organic and Fairtrade PNG Coffee Grounds and Fairtrade Hot Choc. We will donate $1 from each tin sold.
Buy now
BOLD COFFEE FOR A BRIGHT FUTURE
Our 100% Australian certified Organic and Fairtrade coffee is 100% ethically grown and produced by Fairtrade farmers. Fresh green beans grown in Papua New Guinea have been medium roasted and ground to create a clean full-bodied cup.


VISIT BRUNETTI CLASSICO CARLTON FRIDAY 5th AUGUST 
An institution for locals and tourists alike, Brunetti Classico in Carlton is one of Melbourne's must-visits to indulge in a delicacy from the Pasticceria or the Paninoteca. A CafeSmart cafe the team will be donating $1 of every coffee sold on Friday 5th August 2022. Befriend Brunetti Classico.
"Everyone deserves to have a roof over their head, so today we reflect and are proud to participate in such a worthy cause to help put an end to homelessness" - Fabio Angele Brunetti Classico Owner
CAFESMART
As you grab your morning brew, have you thought about the thousands
of Australians going without basic shelter, adequate food or support? Learn more about CafeSmart and their impact to end homelessness in your hood here.