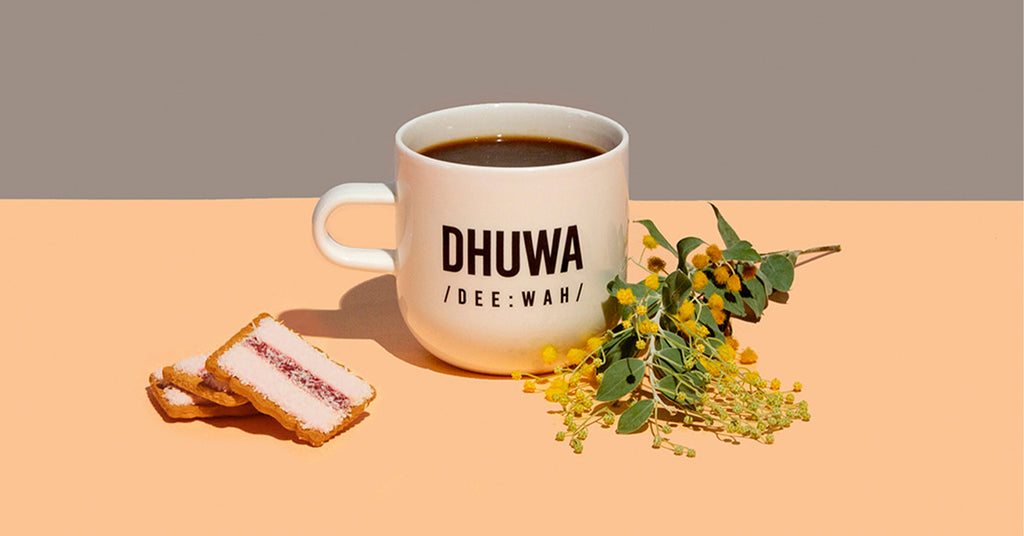 DHUWA™ takes a coffee break.
DHUWA has advised its retail and business partners that it is pressing pause while it undergoes a reset.
During this hiatus, DHUWA will not roast, sell or distribute coffee, license manufacturing or sponsor partners.  
For the past two years, DHUWA, Australia's Indigenous-owned coffee company, has brought a new brew to the kitchens of households and workplaces across the country. 
DHUWA would like to thank everyone who has been involved with or supported the company over the past two years.
Read full letter online here
DHUWA™ Coffee, Australia's Indigenous owned coffee roasted on Wurundjeri Country.
Updated. Originally Published June 08, 2021

DHUWA™

 Coffee owners

(L-R) Peter Patisteas, Chris Togias, Shawn Andrews
DHUWA Coffee has had it's major retail debut and is now stocked in 950 Woolworths stores nationally and available on Woolworths at Work.
DHUWA (pronounced dee:wah and meaning to feel alive in Bidjara language) is Australia's Indigenous-owned coffee majority owned by Shawn Andrews a descendant of the Mununjali people of Southeast Queensland and the Palawa people of Tasmania. 
DHUWA Beverages Pty Ltd was established January 2021. A modern Indigenous business the DHUWA Co partnership pairs the oldest culture in the world with Griffiths Bros, Australia's oldest coffee roaster, who roast DHUWA coffee blends in naarm on Wurundjeri country within the kulin nations."
Proud Mununjali Palawa man and DHUWA Co-founder Shawn Andrews explains that "it makes sense to pair the oldest culture in the world with Australia's oldest coffee roaster to deliver premium coffee with a conscience to home baristas."
A partnership that was formed over a shared passion of rich traditions, great coffee and reconciliation, DHUWA Co brand repositioned, redesigned its visual identity and relaunched product mix at scale delivering
Griffiths Bros' Managing Director Peter Patisteas is thrilled to help bring the product to life. "We know from our 140-year provenance that coffee is synonymous with conversation and community. The DHUWA co partnership is a way for us to continue this by helping start conversations between Indigenous and non-Indigenous Australians." 
DHUWA Co began in February 2021 during a meeting between grocery giant Woolworths, Indigenous entrepreneur Shawn Andrews and Griffiths Bros. Fourteen short weeks later and DHUWA coffee was available in selected Woolworths stores. DHUWA's three coffee blends launched in May into Woolworths, Australia's biggest retailer, selling on what could be argued as the most competitive supermarket shelf. 
In five short yet massive months we've seen DHUWA a modern Indigenous coffee brand become the choice of morning brews in homes across the country with solid performance against international coffee giants.
 
Now nationally ranged shop DHUWA coffee blends at your local Woolworths store or power up your home / office with through our coffee suite provision.
DHUWA plans to train and employ Indigenous people, while five per cent of every DHUWA Coffee sold in Woolworths will go to charity partner Dreaming Futures The not-for-profit supports Aboriginal and Torres Strait Islander children in out-of-home care.
Discover DHUWA Co's success story and more milestones here.